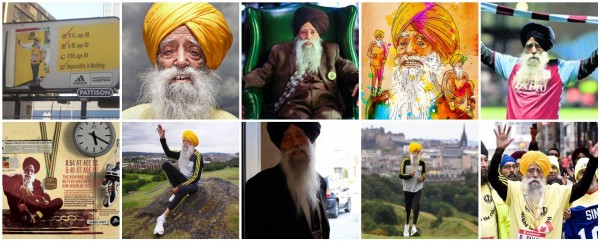 We love Sardar Fauja Singh. Â We really, really do.
On Sunday, Fauja Singh will run his final race in Hong Kong at the tender age of 101.  Jezebel recently covered Fauja Singh in a piece about  women's rights, and just today Jordan Conn wrote a compendious and inspiring article for Outside The Lines on ESPN about Fauja Singh's life and the "missing" Guinness Book of World Records title.  This article, along with stunning photographs, spread like wildfire on Facebook and Twitter today – reminding us just how much the world loves Fauja Singh and what he represents.
On the first day of training, Fauja arrived limber and energetic and dressed, as he believed was perfectly appropriate, in a dazzling three-piece suit. Harmander told him he needed a wardrobe change. After adamant protests, Fauja relented, ditched the suit and bought running gear. He showed up every day after that, building his routine around his training schedule. His mileage increased as the weeks passed. Race day arrived. After 6 hours and 54 minutes, 4:48 behind winner Antonio Pinto, Fauja crossed the finish line. At age 89, he was a marathoner. Soon, he would be a star.
We will be wishing you well on Sunday, Fauja Ji! Â Thank you for continuing to be such an activist and a positive soul and for reminding us of the importance of health and happiness.
– The Langar Hall