The Center for Change
Posted by Mehmaan (Guest) | Saturday, February 1, 2014 – 3:08 pm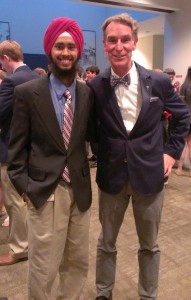 Blogged by Harjit Singh
Many people who know me wonder why as an astrophysics and geophysics major I interned in the office of Congresswoman Judy Chu. In her office I have was not only able to explore my interests, but I also served my Sikh community and built a network of friends and mentors who will likely be there for me as I ready to launch in the world- post- undergrad.
As an astrophysicist, I was assigned to conduct research on NASA's priorities and goals. I read the Congressional Research Survey Reports about NASA, attended hearings on the topic of NASA reauthorization, and wrote memos summarizing those hearings. The internship helped me to understand the future of space exploration and become somewhat of an expert in the policy aspect of this field.
One of the highlights was meeting Bill Nye at a NASA event I attended through my internship. This man helped many kids fall in love with science so meeting him was inspirational.
In terms of advancement of Sikhs, I believe I contributed to the cause during my time in D.C. First, it was a positive step adding to the diversity but specifically increasing the Sikh presence and visibility in the city, especially on Capitol Hill. Even in a city filled with graduate and professional degrees, there remains much ethnic and religious ignorance. Luckily, I had the opportunity to dispel some of that ignorance through my daily interactions with people. Also, with Judy Chu being a co-chair of the American Sikh Congressional Caucus, I worked on a few cool things for the caucus. My most important contribution would have to be writing the first draft to a resolution (H.Res. 334) that was introduced in Congress to commemorate the anniversary of the shootings at the Oak Creek Gurdwara.