Guest blogged by Manpreet Kaur
Recently the Sikh American Legal Defense and Education Fund (SALDEF) announced that they will be honoring Gap, Inc. for taking "pride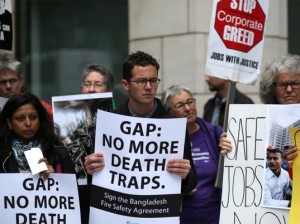 in featuring the Sikh American identity" at their annual gala on October 11th in Washington, DC. As you may remember, last year, the Gap used Sikh actor and designer Waris Ahluwalia in their "Make Love" campaign. The Sikh community gave a lot of praise to Gap over social media posting and re-posting the advertisement as even encouraging Sikhs to purchase from and support the company. This support increased exponentially when Gap responded positively to racist vandalism on an ad in New York City.
While having a Sikh model on a mainstream advertisement might be a positive step especially a year after the Oak Creek tragedy, as Sikhs, how can we, as a community, support a company that has carried out horrific labor practices? Gap's terrible labor practices in South Asian countries have been widely documented, putting employees in extremely dangerous working conditions with less than minimum compensation.
Gap, Inc. literally has blood on its hands, as 29 trapped  garment workers died in a fire in a Bangladesh factory that produced clothing for the company in 2010. United Students Against Sweatshops states:
Human rights activists and labor groups have been calling on Gap to fix the factories in the rest of their Bangladesh supply chain since December 2010, but instead Gap is sticking with its own corporate-controlled voluntary initiative that lacks transparency, accountability, and worker voice. Gap initially promised to sign onto a meaningful fire and building safety agreement, but then backed out, announcing their own, go-it-alone initiative. Gap is using the same self-regulatory approach that they and other brands have used for two decades and that has failed to protect the safety of workers in Bangladesh: factory monitoring controlled entirely by Gap, with no transparency, no role for workers or their trade unions, no commitment to pay prices to suppliers that make it feasible for them operate responsibly, and no binding commitments of any kind.
As a leading Sikh and social justice organization, it is hard to understand how SALDEF has overlooked the negative labor practices that Gap is notorious for. This seems especially contradictory when we as Sikhs are challenged by our Guru to fight oppression across all religions, cultures, race, and ethnicities. How far do we go when the Sikh image is brought forefront from the same corporation that has put so many others in brutal conditions?
While praise is needed because Sikhs did receive a lot of attention from the advertisement, how does one balance this with a national Sikh organization giving an award to Gap? While it may seem to the leaders of the organization that this recognition is due because to promotes the Sikh image and educates the American society on who we are, it actually contradicts the Sikh message that Guru Tegh Bahadur gave us as he was the "defender of the oppressed."
It seems as if SALDEF is willing to simply allow other organizations to handle addressing Gap's labor practices, rather than making this crucial connection between local Sikh civil rights and media awareness to international solidarity and human rights.  As the gala is coming up, we need to remind ourselves that as we celebrate the accomplishments Sikhs had in the past year, we also should also make sure we are not undermining our own Sikh teachings.
We, as a Sikh American community, should urge SALDEF not to turn a blind eye to the inhumane practices of Gap. This should be a chance to open up and leverage our Sikh teachings and have a dialogue with Gap on their human rights violations. How can we use this positive Sikh image in the media for the benefit of everyone? This our opportunity to have a direct conversation with a leading corporate power in the United States on how they handle their factories in South Asia and in other parts of the world.
Is the Sikh image on a billboard more important than the lives of countless garment workers surviving off pennies a day in life-threatening working conditions?
______________________________________
We received a response from SALDEF, it is posted below in its entirety.
Sadh Sangat Ji –

We deliberated long and hard on the decision to award GAP and Peterson Milla Hooks for the "Make Love" campaign, and welcome the open dialogue from Manpreet Kaur and the Langar Hall community, who drive us to do better every day. This award is specifically being given to the campaign, which is why the agency that created the campaign, Peterson Milla Hooks, is being awarded alongside the CMO and no other executives from the company.

We recognize the need for fair labor practices and do want our communities to continue advocacy on the behalf of workers. However, we think we also need to encourage a company when they do something well, in order to cultivate progressive values across all aspects of their business. In the case of GAP's marketing department and Peterson Mill Hooks, it was a significant decision for them to place a Sikh American so prominently on an ad and then also take a positive step when the advertisement was defaced with anti-xenophobic rhetoric.

We consistently hear from concerned community members, who pay attention to how Sikhs are depicted in popular culture. Take for example, Ben Kingsley's recent role in "playing" a Sikh man in
Learning to Drive. Even the PBS Winner 'My Dear Americans' featured a non-Sikh. Clearly, our media work will not be done until Sikhs are cast regularly in accurate and rich roles about Sikh men and women around the world. If we recognize times in history when Sikhs are fairly represented in roles in new and unexpected ways, as Waris was in the "Make Love" campaign, we cultivate more opportunities for Sikh men and women to fulfill their creative ambitions, a need we have specifically seen through our half a decade long work on establishing SikhLEAD.

Finally, the Sikh Image Award is ultimately purposed to encourage media companies to cast film and advertisements with more diverse casts in-mind. As we saw in the nation-wide dialogue that occurred after the Cheerios casting of a bi-racial child and the dialogue that followed when she and the family became targets for racist and hateful dialogue, as well as the anti-xenophobia sentiments we saw across all forms of media after graffiti was found on the Waris/Make Love ad, casting decisions can have a strong impact on dialogue on race and diversity in this country. And in many ways, it is the institution that we can impact the quickest and for the longest amount of time. With this in-mind, it was Peterson Milla Hooks and their peers that we want to acknowledge, but given the B2B (business to business) aspect of their work, we needed to acknowledge the marketer as well, which was the GAP.

Please feel free to reach out to us to continue this dialogue. As you may have seen, our Media Initiative is working to introduce Sikh Americans to a variety of media in order to build their platforms. In the last three months, we've secured media opportunities for Darsh Preet Singh, Lakhpreet Kaur, and Vishavjit Singh on a variety of progressive causes. If you are interested in pursuing this type of work, please do not hesitate to reach out to us at [email protected]

With deep humility and appreciation,
Sona Simran Kaur
SALDEF Communications Director