Disclaimer for non-Sikhs: In writing this, I am not in any way saying Sikhs are somehow more predisposed to violence than any other community. The last thing I want to do is perpetuate racist stereotypes about Sikhs. However, I write because I see an opportunity for introspection in our community. If you choose to continue reading, I encourage you to think about how similar dynamics may play out in your community/ies.

I am still having a hard time wrapping my head around what happened in Newtown, CT last week, especially given the kind of year it has been here in the United States, from Aurora, CO to Oak Creek, WI.
For now, I want to pick up the conversation where Nina left off.  Indeed, heartbreak is the right word for how I'm feeling about the deaths of children and adults due to gun violence, including those that don't make the national news headlines, whether they are youth of color shot by police officers or families in Afghanistan bombed by the U.S. military.
Today, the depth and pervasiveness of violence in American culture is more clear than ever.  The evening of the tragedy in Newtown, Michael Moore who made the Oscar-winning film about school shootings in 2002, Bowling for Columbine, stated:
I like to say that I sort of agree with the NRA when they say, 'Guns don't kill people, people kill people,' except I would just modify that a bit and say, 'Guns don't kill people, Americans kill people,' because that's what we do. We invade countries. We send drones in to kill civilians. We've got five wars going on right now where our soldiers are killing people–I mean, five that we know of. We are on the short list of illustrious countries who have the death penalty. We believe it's OK to kill you when you've committed a crime.
I agree with Michael Moore than in such a context where violence and killing human beings has become so normalized, we shouldn't be so surprised when more and more of these mass shootings occur throughout the country, especially given how easy it is to get a device where you can kill a crowd of people with the simple push of a button (or pull of a trigger, to be more accurate).
So where do we Sikhs fit into all of this? If violence is so hegemonic in American culture (and arguably has been since this country's inception), perhaps we need to take a moment to look within.  I remember as I was watching the situation at the Oak Creek gurdwara unfold on CNN in August, the first thing I thought to myself was: I really hope this is not some gurdwara committee power struggle spiraling out of control. I talked to other Sikh friends who had similar initial reactions. This tells us a lot about the disturbing reality we find ourselves in as a community. A community that struggles with its own culture of violence.
I'm guessing many of us have witnessed violent behavior in the Sikh community throughout our lives. As a teenager, pretty much any party I would go to where there was a sizable presence of Punjabi and Sikh youth would end with a fist fight. Or bottles being thrown. Or worse. Just recently, I was playing a show with my band at a mela in the UK. A fight broke out in the front row during our set.  We stopped playing, and one of the event organizers came up to the stage, shook his head, and told the audience, "This is why we have such a hard time doing these kinds of events," implying that this was a regular occurrence. I spoke to the Singh who organized our tour afterward, and he said that melas have been getting shut down because of violence his whole life. I imagine this is a familiar story to many.
I probably don't have to even bring up the ridiculous frequency of  fights at gurdwaras, from family feuds and casteism to committee battles and political struggles.
What about the alarming rates of intimate violence and gendered violence in our community? Or the popularity of Punjabi Sikh gangs in areas like Vancouver and the Bay?
Needless to say, many of these issues are not unique to our community, but that doesn't mean we shouldn't be grappling with why these are all indeed such problems for us Sikhs. (I don't think the age-old excuse many Sikhs make for our community's flaws is sufficient here: "That's Punjabi culture, not Sikhi.")
We could talk endlessly about all the horrible ways we see violence play out in the Sikh community, but  the question we need to ask ourselves is: what are the ways in which we perpetuate a culture of violence among Sikhs?  How do we create, perpetuate, and sustain this culture of violence within the doors of the gurdwara, within our Sikh and Punjabi homes, within our organizations, our imagery, our stories?
There are no simple answers here, but I will offer a couple of ideas.
1. Patriarchy and gender socialization.  With few exceptions, the perpetrators of violence in our community (and outside of our community for that matter) are men and boys. The connection of patriarchy to violence may be more obvious when we're talking about domestic violence or sexual assault, but masculinity has a lot to do with why we see Sikh boys and men breaking out in fights on the regular as well.  The way we socialize our Punjabi Sikh males seems to create a version of (hyper)masculinity that makes aggression and toughness the status quo.
We learn as children to be proud Sikhs, but unfortunately for us Sikh males, that often translates into the type of pride that is the basis for dealing with conflict with violence. The type of pride that is much more about ego and arrogance than anything having to do with Sikh values.  As I've said before, we men learn to be disconnected from our emotions (unless those emotions are anger or rage), we often lack the ability to have deep emotional connections with other men (and often women as well), and we often don't know how to effectively communicate about our feelings or how to be intuitive thinkers. We bottle it all up, and then with the smallest stimulus, we explode.
2. Glorification of the Sikh warrior. The sant-sipahi, or warrior-saint, is an important ideal in Sikhi. Fighting against injustice is in the DNA of Sikhs, and we have taken up arms to do so under extreme circumstances, when all other means failed. Indeed, the Khalsa was founded as an armed body of revolutionaries in 1699 by Guru Gobind Singh, the kirpan a part of our uniform. I am inspired by this aspect of Sikhi and Sikh history every day. However, I think there are ways in which Sikhs today glorify violent struggle sometimes, which strips sant-sipahi of its true meaning.
I remember after the Sikh Coalition launched its "Right to Serve" in the US Army campaign, many proudly cited the "martial tradition" of Sikhs in pushing to end discrimination in the Army. Advocates and community members often highlight the fact that Sikhs serve in armies throughout the world, most notably in India and Great Britain, and see this as a part of the legacy of the Khalsa Fauj — as Sikhs continuing to embody the santi-sipahi spirit. As I've said before, comparing service in the Indian, US, or British armies to the Khalsa army totally belittles our revolutionary tradition. Engaging in armed conflict or war is not valorous in and of itself. This is not what Sikhs' martial history is about. Our ancestors took up arms to overthrow tyranny, but over time many were co-opted by the British Raj and later the Indian government. Perhaps the US government is imminent. Fighting imperial wars is a far stretch from why Guru Gobind Singh armed us with the kirpan.
I also wonder about the impact of some of the images that we see on a regular basis in our gurdwaras, homes, and social media sites. I do believe it's important to tell our youth the stories of all those martyrs who gave up their lives for us and for justice, but am not sure if graphic paintings of bloodshed, decapitations, and torture on the walls of the langar hall is the best strategy. Even in educational cartoon films, the hero image we get is a huge, muscular, larger than life Sikh warrior — the Sikh man we should all aspire to be. Highlighting the bravery and fearlessness of Sikhs is great, but how often do we see images that depict equally important traits like sensitivity, cooperation, and collaboration? (especially for men).
What about our infatuation with weapons? Taking an interest in the weapons our ancestors used on the battlefield is not in and of itself problematic, but sometimes an overemphasis on weapons takes our attention away from what Sikhs were fighting for. We become obsessed with the fight itself. It's exciting. It's dangerous. Is it a bit sadistic?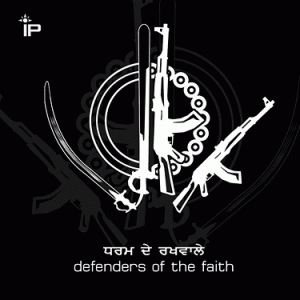 I'm not a pacifist. I believe armed struggle has been an important and necessary means to fight for liberation and justice in many cases throughout history. I am, however, concerned that our particular Sikh history of armed struggle has become an excuse to glorify and encourage aggressive and/or violent behavior. Guru Gobind Singh was clear that taking up the sword was only a last resort in our fight for sovereignty and dignity. Hundreds of years later, we have guns, assault rifles, semi-automatic weapons all readily available. We see their capacity for destruction and devastation far too often. The stakes are high. I hope the deaths of these children and teachers in Newtown presents us with an opportunity to dig deep and ensure we are working toward peace (which requires justice) in every step we take.