Co-blogged by Sundari and The Sikh Love Stories Project
Each year, International Women's Day is celebrated to honor women's economic, political and social achievements. As individuals around the world celebrate this day – in both big ways and small – I am left to consider how we can work to honor the achievements of Sikh women not only today but on an ongoing basis.  Sikh women have contributed in such meaningful ways, and yet much of that dialogue is often missing from our history.
In this post, we will be sharing some images with you and discuss various ways Sikh women have been witness to and engaged in our history both locally and globally.  We know this post will not be comprehensive – there is much to unearth about Sikh women's contributions – but we hope it's a starting point that will encourage us to keep this valuable history in our minds. Many of the following images each depict a different element of Sikh women in history.
Stories often begin with immigration and this first image shows Sikh women pioneers in Canada who were part of an immigrant labor force recruited in the early years of the twentieth century.
Mill Town Pioneers. Most of Canada's early Sikh immigrants found work in lumber mills throughout the Pacific Northwest.

Canada's largest mill community, Fraser Mills in New Westminster, BC, had between 200 and 300 Sikhs living and working there in 1925.

In this photograph from that period, three Sikh women stand in front of company houses at the mill. [link]

One of them wears a traditional embroidered shawl called 'phulkari'. The phulkari played an important role in the lifecycle rituals of women in Punjabi villages at times of birth, marriage and death.
This next image celebrates the brief life and work of a twentieth century modern artist and icon Amrita Shergill (1913-1941), often referred to as India's Frida Kahlo. She gained critical acclaim by becoming the youngest ever and only Asian associate of the Grand Salon in Paris.
Born of a Punjabi Sikh father and Hungarian mother, she is equally renowned in both countries. Her parents were Umrao Singh Shergill Majithia, a Sikh aristocrat and a scholar in Sanskrit and Persian, and Marie Antoniette Gottesmann, a Jewish opera singer from Hungary who arrived in India as a companion of Princess Bamba Sutherland, the eldest daughter of the exiled Maharaja Duleep Singh.

She has also been hailed as a feminist icon whilst her paintings attract the highest figures for any Indian women artist. Pre-globalisation, her multicultural mix of styles and influences combined with her passionate portrayal of India's poor mark her out as a woman who altered the face of Asian art and set a course for women, artists or otherwise, to stake their place in the world.
This next image is a portrait of the Rani of the late Rup Singh of Radaur.
Looking to the past, it is commonly believed that the role of Sikh women in power and politics has tended to be fairly limited or constrained. Take by way of example the days of the Sikh Raj, the mighty empire forged by the will of Maharaja Ranjit Singh. It is men who are recalled as the main players but this is not entirely true.

Less well known but no less important were the maharaja's leading ladies – the women who helped shape his career and his kingdom. They range from his mother-in-law, Rani Sada Kaur who was instrumental in arranging powerful alliances for the upcoming Ranjit, to Rani Jindan, the last of his wives who proved to be a thorn in the side of the British whilst holding court and sway over the last days of the kingdom.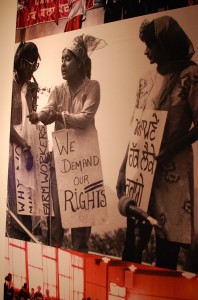 To change directions slightly, I wanted to include the following picture which was taken a few years ago at a Bhangra exhibit at the Museum of Vancouver. Â The image is of three Sikh women, standing with signs around their neck stating, "WE DEMAND OUR RIGHTS" (in both English and Panjabi). Â While I'm not sure what the exact circumstances were of the protest, the sign next to the image possibly provides some context:
When Bhangra teams started in the early 1970s, they performed in an atmosphere steeped with racism.  While South Asian immigrants had made great political and social advances, many of them still faced overt and subtle forms of discrimination…. The celebration of Bhangra fostered opportunities for understanding that went beyond the political rhetoric of Canadian multiculturalism and moved towards deeper cultural understanding and dialogue.
This final image is one of my favorites. Â It speaks to the deep, yet unknown, history of Sikh women.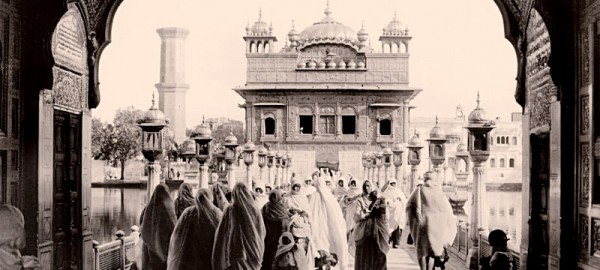 Finally, for more historical references to Sikh women, you might like to read this article . Â An excerpt,
Unlike men, who dominated both written and visual records, the contribution of Sikh women has largely been hidden from view. This is either because they've been neglected from the record books due to the prevailing attitudes of the patriarchal societies they lived in, or the rare historic records that do exist are just difficult to access, hidden deep within public and private archives.
As we noted above, this post is the first of many ways we hope to bring attention to the contributions of Sikh women in our history. Happy International Women's Day!
::
The Sikh Love Stories Project, the first of its kind, is a collection of stories from Sikh women living in North America. Â This groundbreaking anthology will be a compilation of love stories written by and about Sikh women and will be published in the form of memoirs, creative non-fiction stories, and creative essays [link]. Â If you would like more information, please contact info[at]sikhlovestories.com.