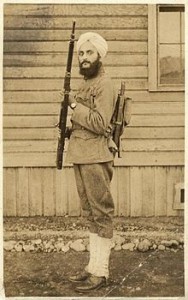 Yesterday, the Washington Post reported that a bipartisan group of 105 Members of Congress sent a letter urging the Department of Defense to end a presumptive ban on devout Sikhs who want to serve in the U.S. Armed Forces.  Over the past several years, civil rights group, The Sikh Coalition, has been working to address the issue of equal opportunity in the Armed Forces allowing all Sikhs to serve.  Since 2009, three Sikh Coalition clients—Major Kamaljeet Singh Kalsi, Captain Tejdeep Singh Rattan, and Corporal Simran Preet Singh Lamba—have received rare and historic accommodations to serve in the U.S. Army with their articles of faith intact.  A timeline of the efforts can be found here.
The Members wrote:
Dear Secretary Hagel,

We respectfully request that the United States Armed Forces modernize their appearance regulations so that patriotic Sikh Americans can serve the country they love while abiding by their articles of faith.

Devout Sikhs have served in the U.S. Army since World War I, and they are presumptively permitted to serve in the armed forces of Canada, India and the United Kingdom, among others. Notably, the current Chief of Staff of the Indian Army is a turbaned and bearded Sikh, even though Sikhs constitute less than two percent of India's population. Throughout the world, and now in the U.S. Army, Sikh soldiers are clearly able to maintain their religious commitments while serving capably and honorably.
After hearing from their constituents, many Members of Congress who represent large constituencies of Sikhs signed onto this letter representing the importance and value of political engagement. Â Unfortunately, there were also Members of Congress – some who represent Sikh constituents, who fund-raise within the Sikh community and even sit on the American Sikh Congressional Caucus who did not sign this letter. Â This includes my own Member of Congress, Devin Nunes who "represents" (or that's what we thought) a large constituency of Sikhs in the Central Valley of California. Â Other missing signatories include Congressman LaMalfa and McClintock – who, in the past, have reached out to the Sikh community for support.
It isn't enough to simply invite Members to our Gurdwaras and offer them saropay. Â We have to hold our Members of Congress accountable once they leave our Gurdwaras and are challenged to support our issues on the Hill. Â Our presence and political engagement will only make a difference when we continue to take a leadership role to address inequity in our society and establish a strong voice on behalf of the Sikh community.