Appear for the Disappeared – A 5K Walk
Posted by Sundari in
Activism
,
Health
,
Human Rights
,
Punjab
on 03 19th, 2013 |
30 Comments
You will be walking i

n memory of twenty-eight-year-old Darshan Singh who was a young farmer from Amritsar district. On 9 September 1990, Darshan and two other young men went for a motorcycle ride when a group of police officers suspected them of being militants and shot at them. Darshan, the pillion rider, was hit by a bullet and fell down dead. The police took Darshan's two companions into custody and reported them dead in alleged encounters.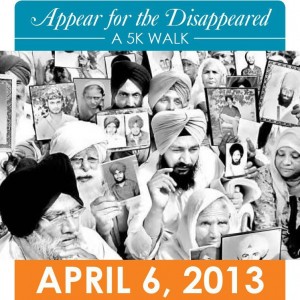 After recently registering for
Ensaaf's Appear for the Disappeared 5K walk
, I received the above email with information about the individual in whose memory I would be participating.
Ensaaf has documented thousands of cases of disappearance and unlawful killings in Punjab and in an effort to allow its supporters to connect with victims, Ensaaf is holding a 5k walk, called Appear for the Disappeared, on April 6, 2013 in Fremont, CA. The walk is an opportunity for all participants and virtual donors to commemorate a specific individual who was disappeared in Punjab by Indian security forces from the mid-1980s to late 1990s. Ensaaf's goal is to commemorate 500 individuals and raise $25,000 to complete documentation efforts.
Between 1984 and 1995, Punjab witnessed thousands of disappearances and unlawful killings, with many victims facing unimaginable torture at the hands of Indian security officials. Rarely were victim families informed of the fate of their loved ones, let alone given a chance to carry out final rites and funeral services. As thousands of men and women disappeared and their families left in the darkness, responsible security officials were awarded promotions and their human rights violations faded into darkness.