How much weight does the Sikh image carry?
Posted by Mehmaan (Guest) in
Human Rights
,
Organizations
on 10 2nd, 2014 |
52 Comments
Guest blogged by Manpreet Kaur
Recently the Sikh American Legal Defense and Education Fund (SALDEF) announced that they will be honoring Gap, Inc. for taking "pride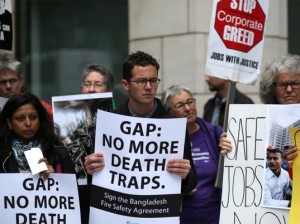 in featuring the Sikh American identity" at their annual gala on October 11th in Washington, DC. As you may remember, last year, the Gap used Sikh actor and designer Waris Ahluwalia in their "Make Love" campaign. The Sikh community gave a lot of praise to Gap over social media posting and re-posting the advertisement as even encouraging Sikhs to purchase from and support the company. This support increased exponentially when Gap responded positively to racist vandalism on an ad in New York City.
While having a Sikh model on a mainstream advertisement might be a positive step especially a year after the Oak Creek tragedy, as Sikhs, how can we, as a community, support a company that has carried out horrific labor practices? Gap's terrible labor practices in South Asian countries have been widely documented, putting employees in extremely dangerous working conditions with less than minimum compensation.
Gap, Inc. literally has blood on its hands, as 29 trapped  garment workers died in a fire in a Bangladesh factory that produced clothing for the company in 2010. United Students Against Sweatshops states:
Human rights activists and labor groups have been calling on Gap to fix the factories in the rest of their Bangladesh supply chain since December 2010, but instead Gap is sticking with its own corporate-controlled voluntary initiative that lacks transparency, accountability, and worker voice. Gap initially promised to sign onto a meaningful fire and building safety agreement, but then backed out, announcing their own, go-it-alone initiative. Gap is using the same self-regulatory approach that they and other brands have used for two decades and that has failed to protect the safety of workers in Bangladesh: factory monitoring controlled entirely by Gap, with no transparency, no role for workers or their trade unions, no commitment to pay prices to suppliers that make it feasible for them operate responsibly, and no binding commitments of any kind.