Sikh Solidarity with Gaza
Posted by Brooklynwala in
Activism
,
Human Rights
on 11 16th, 2012 |
56 Comments
At least 21 Palestinians in Gaza have been killed and hundreds more injured in the last week by the Israeli "Defense" Forces.  Three Israelis have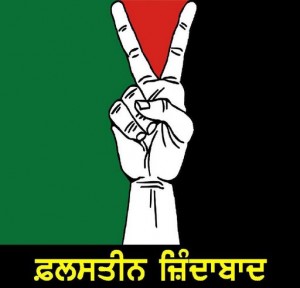 also been killed in this latest escalation of violence in the region.  The situation is dire, as Israel is now ramping up for a full on ground invasion of Gaza, an area of only 141 square miles inhabited by 1.7 million residents.  One of the most densely populated areas in the world, it has also been called the largest open air prison in the world.  (Read Ten things you need to know about Gaza for more).
Let us be clear:  Israel is not defending its citizens.  It is on an aggressive, offensive, politically-charged rampage.  We must read beyond the deceiving mainstream media coverage to get the to reality of the situation (see this timeline of recent events).  This isn't about Hamas rockets or any dangers to the existence of the state of Israel.  Phyllis Bennis wrote in the Nation:
So why the escalation? Israeli military and political leaders have long made clear that regular military attacks to "cleanse" Palestinian territories (the term was used by Israeli soldiers to describe their role in the 2008-09 Israeli assault on Gaza) is part of their long-term strategic plan. Earlier this year, on the third anniversary of the Gaza assault, Israeli army Chief of Staff Lt. Gen. Benny Gantz told Army Radio that Israel will need to attack Gaza again soon, to restore what he called its power of "deterrence." He said the assault must be "swift and painful," concluding, "we will act when the conditions are right." Perhaps this was his chosen moment…

This is primarily about Netanyanu shoring up the right wing of his base. And once again it is Palestinians, this time Gazans, who will pay the price. The question that remains is whether the US-assured impunity that Israel's leadership has so long counted on will continue, or whether there will be enough pressure on the Obama administration and Congress so that this time, the United States will finally be forced to allow the international community to hold Israel accountable for this latest round of violations of international law.
If you pay taxes in the United States, you are helping fund Israel's invasion. Just a few months ago, President Obama announced the addition of $70 million in military aid to Israel.  We Americans are literally funding the atrocities being committed against our brothers and sisters in Gaza right now.