Defending Our Mother Earth: Sikhs at the People's Climate March
Posted by Mehmaan (Guest) in
Activism
,
Environment
,
Events
on 09 16th, 2014 |
100 Comments
Guest blogged by Bandana Kaur
"Pavan guru paanee pitaa
Maataa dharat mahat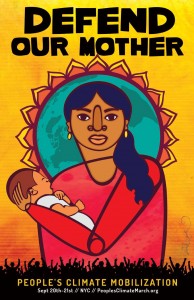 Divas raat du-i daa-ee daayaa
Khaylai sagal jagat"
-Guru Nanak Sahib 
In honor of the Sikh concern for preserving 'Mata Dharat' (Mother Earth), Sikhs from cities across the northeast are joining the People's Climate March in New York City on September 21st, the largest mass movement for climate justice in history.
Next week, world leaders are coming to New York City for a UN summit on the climate crisis. The world is urging governments to support an ambitious global agreement to dramatically reduce global warming pollution.
With our future on the line and the whole world watching, we'll take a stand to bend the course of history. We'll take to the streets to demand the world we know is within our reach: a world with an economy that works for people and the planet; a world safe from the ravages of climate change; a world with good jobs, clean air and water, and healthy communities.
Why Are We Marching?
We march because Sikhi affirms the sanctity of the Earth.
We march because the ecological basis of Sikhi rests in the understanding that the Creator ('Qadir') and the Creation ('Qudrat') are One. The Divine permeates all life, and is inherent in the manifest creation around us, from the wind that blows across land and skies, to the water that flows through rivers and seas, to the forests and fields and all creatures of land and sea that depend on the earth for sustenance.
We march because Sikh Gurus teach that there is no duality between the force which makes a flower grow and the petals we are able to touch and sense with our fingers.
We march because the Sikh Gurus referred to the Earth as a 'Dharamsaal,' a place where union with the Divine is attained. Guru Nanak describes this in Jap Sahib, that amid the rhythms of Creation, the changing seasons, air, and water, the Creator established the earth as the home for humans to realize their Divinity in this world.