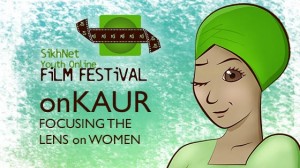 There are only a few days left in the annual SikhNet Youth Online Film Festival. Â This year's theme, "onKaur: Focusing the Lens on Women", brings together a collection of 18 films by and about Sikh women. Â The films look at the idea of "Kaur", what that means and how it can be represented in film.
The films have been categorized as documentary ("think") and drama ("cry") with issues including: Anand Karaj, bullying, hair, health issues of Panjab, gender justice, family, and gatka among others.
The film festival is important for several reasons and this year's theme brings to light the need to include Sikh women's voices in conversations around identity and community. Â It's a valuable way of showcasing issues affecting Sikh women.
Here's how to view and vote:
The film festival also provides a platform for young filmmakers to showcase their films to a wider audience.
1. View the documentary films here and vote via Facebook.
2. View the drama films here and vote via Facebook.
Voting ends on October 9th.